Our Journey Continues.....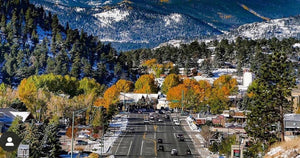 OUR STORY STARTED...
After many years of retail that includes owning stores, attending shows, woodworking, wholesale, jewely metalsmithing and multiple venues in Texas......
​We followed our dream and our name inspiration (The Red Elk) and moved to Estes Park, Colorado.
We Purchased The Original Old Fashion Candy Store, Established in 1958.....and a small piece of history. 
Our amazing Mountain town of Estes Park, CO has allowed us to pursue our dreams of owning the Candy Store and continuing The Red Elk with our Apparel lines, jewelry and woodworking.
Many changes have happened but this journey continues.....
Our custom flannels and handmade jewely can now be found at our second location. 184 E. Elkhorn Ave. Estes Park,CO.
Contact us or come by. We would love to meet you!
Visit Us in Estes Park, CO